Android Auto is updated almost every week, although sometimes it is difficult for us to find out what has changed with the new version, as Google usually activates the changes from the server side. Then the doubts arise to know if you have the latest version installed or not, because sometimes the update can take time to arrive through Google Play.
If you want to know which version of Android Auto you have installed on your mobile, you have two ways to do it. You can check the version of Android Auto like any other application, in addition to being able to do it from the Android Auto settings themselves.
From the app information
Android Auto is an application like any other, although it does not normally appear in the application drawer anymore. However, you can still see the version of Android Auto by checking the version of the application, something that is possible to do with any app.

In Engadget Android
The trick to watching YouTube on Android Auto
There are several ways to do this. One of the fastest requires you to have a shortcut to Android Auto, in which you will have to make a long touch to open the context menu where the application information option normally appears. In this information screen you will see the version of the app. Sometimes it's up, sometimes it's down: it depends on the layer.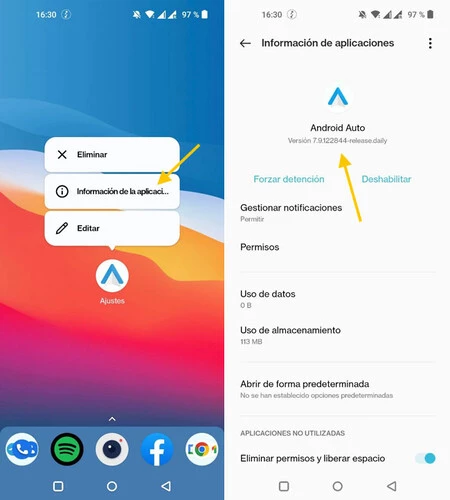 If you don't have this shortcut, then you'll need to do it by the traditional method, which is a bit longer. You must go to the Android settings and enter the Applications section. In the list of apps, you'll need to find Android Auto, where you'll be taken to the app info screen that includes the version. Here are the steps:
Go to your phone's settings

Tap on the Applications section

Open the list of apps (sometimes you'll need to tap on menus like "show all" before)

Tap Android Auto

You'll find the app version at the top or bottom
From Android Auto
You can also know the version you have of Android Auto, from Android Auto. The result is exactly the same as with the previous method, although it has the advantage that you can get some additional information about other applications and services related to Android Auto.
All you have to do is open the Android Auto settings on your phone and scroll to the bottom, where you'll see the version. If you tap on it, the panel displays more related data.
You will then be able to see the version of Android Auto and all the applications compatible with Android Auto that you have installed on your mobile, such as WhatsApp, Google Maps or Google Play Services. It also indicates whether the Android Auto app has the necessary permissions granted or not. Here are the steps:
Open Android Auto settings

Below you will see the version of Android Auto

For additional information, tap on the version and the panel unfolds